Opinion Piece Submitted by Terry Henderson, July 17, 2019 – with comment from Supervisor 1st District, Roger Gitlin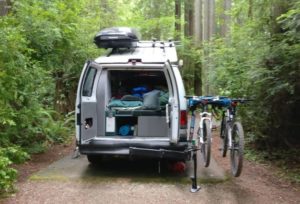 Dear Law Enforcement, Government officials and local media personnel:
I'm writing to express my dismay over an incident that occurred during my recent stay at Florence Keller County Park. My daughter and I finishing a two-week trip to Northern California. We left Portland, Oregon on June 30th and had traveled throughout Northern California. On July 12th, 2019, we planned to stay at Jedediah Smith State Park, but found the campground full. A park employee at the entrance recommended Florence Keller County Park as an alternative, so we went there instead. We found a site and got setup for the evening.
We cooked dinner in our site, #13, built a campfire and enjoyed our campsite for the evening before heading inside around 11:30 p.m. "Inside" in this case refers to our 2001 Ford Econoline camper conversion, in which we sleep. By midnight we had turned out the lights and went to sleep.
As I discovered the next morning, during the night, a thief attempted to steal my bikes by cutting the main security cable which is used to lock my bikes to the bike rack. The thief failed, but succeeded in damaging the cable and rendering it useless. My van has a rear hitch-mounted bike rack on which I was carrying two high end mountain bikes. The rack is locked to the vehicle and the bikes were locked to the rack. The bikes were also covered by a tarp. The tarp was pulled aside and the thief spent considerable effort attempting to steal the bikes. Part of what makes this so unpleasant is that I was asleep in bed with my head approximately two feet from the bikes. My daughter also slept nearby, in the upper berth of our camper.
I find this blatant and brazen attempt to steal from me extremely disturbing. This violation has left me shaken and has tarnished what was otherwise a terrific vacation and wonderful opportunity to travel and explore throughout Northern California!
on my conversation with the camp host, this is not an isolated incident. He explained that a motorbike was stolen from his campsite the week before and that other incidents of theft had been reported recently. The camp host stated that theft is rampant in Florence Keller County Park. This experience makes me believe that not enough resources are being spent to prevent crime. No doubt tourist dollars contribute to the local economy and theft by criminals who are preying on visitors (and locals) in this fashion will only tarnish the reputation of Florence Keller County Park and the surrounding areas, and deter visitors. Keeping people safe and secure must be a higher priority. Although I got lucky, others may not be so fortunate and I'll certainly think twice about visiting the area again.
In conclusion, my hope is that by alerting local law enforcement and government officials, I can raise awareness of this unsafe situation and seek improved safety for future visitors!
RESPONSE FROM SUPERVISOR 1ST DISTRICT, ROGER GITLIN:
Good Morning, Terry Henderson:
Thank you for sending me this powerful email. I have cc:ed your letter to an updated list of Gov't and community leaders. For effective purpose, the list is blind cc:ed in an attempt to bring greater attention and action to our exploding crime problem and change the errant and destructive direction the State is heading.Sadly, what you experienced is a result of the gutting and decriminalizing of California law. This destructive process has been going on for many years: Prop 47, Prop 57, AB109 and many other laws have made crimes like the one you personally experienced common and insignificant. Clearly, what you and your family experienced was not insignificant and very serious. And I am sure, and justifiably so, you may speak with your feet and $$ and relate your experience to your friends and extended family. Like so many other rural California communities, quality of Life is deteriorating in our beautiful community and your negative experience is witness to this… Bike thefts are as common as jaywalking. Shoplifting is another less than serious crime. Budgets for law enforcement are  contracting.
I apologize profusely for your experience and I can only share your letter with people who can make the changes and pray you will give Del Norte County a second chance. We are truly an exquisite community with so many wonderful people. We are ALL frustrated.Those in positions of authority have turned a blind eye and deaf ear to folks like you. That is unacceptable!
Thank you for writing me. Your letter was more than impactful. I have given you my direct cell phone # for easier access to me. I will do everything I can to help improve the quality life in Del Norte County.