Opinion Piece By Donna Westfall – September 14, 2021
Traitorous illegal President Biden came to California to speak at Long Beach City College Monday evening, September 13th. The purpose? To help Governor Gavin Newsom avoid being recalled at the ballot box Tuesday, September 14th.
Who attended the rally? According to the Long Beach Post News:
"Can people attend?
No information has been provided about public access. Details on who has been invited to attend has not been released."
Protestors were in great abundance. His motorcade was greeted with signs that read: "TRUMP WON" and "TRAITOR" in addition to all the RECALL NEWSOM and F**K BIDEN signs. He received boos and shouts and middle fingers.

News reports of stolen ballots and people learning they had already voted when indeed they did not lead to suspicions that there will be doubt about a truthful ballot count.
Leading candidate, Larry Elder told reporters last week that "there might very well be shenanigans," and said that they were prepared to file lawsuits. Trump himself issued a statement in which he said, "Does anybody really believe the California Recall election isn't rigged?"
It's impossible to tell how many turned out in support of Biden/Newsom. Some articles refer to "hundreds rallied" and "a line of families waited to welcome the President as he arrived at the entrance of the College". Since there are no actual pictures to see the turnout that rallied in support of the dynamic duo, who's to know whether there were more protestors than supporters?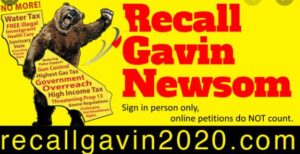 As one Facebook commenter put it, "Vote YES on the recall! There is just too much at stake to give the incompetence and ignorance to continue!"