Just in from Jesse Salisbury with Del Norte and Curry County Feed Scanner Group
At approximately 10 am, Tuesday morning, January 12, Hwy 101 shut down at mile marker 15 (Last Chance Grade) even emergency vehicles can't get through.
On December 14, 2020, Last Chance Grade was closed temporarily due to a slide but it only lasted about two hours.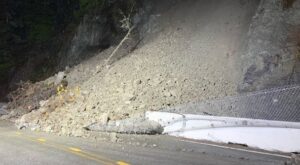 January 12th – 11:20 am: From Roads.dot.ca.gov – "Just re-opened to one way controlled traffic, 10.4 miles South of Crescent City."
From the Scanner Group, "It's an active slide. It's touch and go. They are letting intermittent vehicles through. Cal trans has a truck there, clearing the debris off the rod as it comes down. they are keeping a close eye on it. just worry about people getting stuck on the wrong side of it (people that went to eureka for doc appointments etc…)."
January 12th – 1:22 PM Problem changed from SLIDE-Mud/Dirt/Rock to CLOSURE – Closure of a Road by CHP.