By Donna Westfall – January 1, 2021
January 6th is the deadline for electoral votes to be certified or challenged. Events are happening and it's purpose it to petition Congress not to certify these fraudulent electoral votes. President Trump has put the call out to ALL AMERICAN'S to take action and show up. There's the Washington D.C. rally, one in Sacramento and one in Los Angeles. All on January 6th.
Driving to Washington D.C. from California is a 3 day trip. The goal is to join millions of others on January 6th at noon to support President Trump. There is no logic in thinking that he lost the election. It is statistically impossible. January 6th – that's the day that Congress is certifying or challenging the electoral votes. But traveling 5 1/2 hours from the Crescent City area to Willows, California is not everyone's cup of tea. That's just the first leg of the journey. They are leaving on Saturday, January 2nd at 10 am.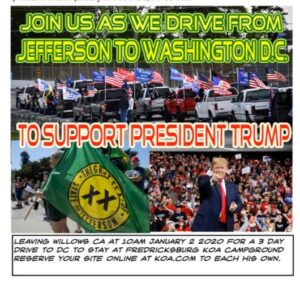 Luckily that's not the only rally going on. A 3 day trip by car to Washington D.C. isn't practical for everyone who would like to be there. There are two other choices.
9 am January 6th: Sacramento Capitol Building 1315 10th Street. That's about a 7 hour drive from Crescent City. Be sure to pack enough food for a couple of days because you never know what our Gov. Newsom will do next about trying to close down food establishments

9 am January 6th: Then there's one in Los Angeles at LA City Hall located at 200 N. Spring St. which is more than a 12 hour drive from Crescent City: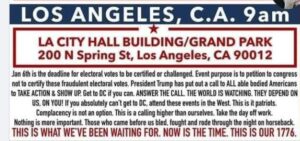 The world is watching. Will you be part of history?