Opinion By Donna Westfall – May 9, 2023 – Picture credit of E. Jean Carroll to Wikipedia dated 2006
That's the good news.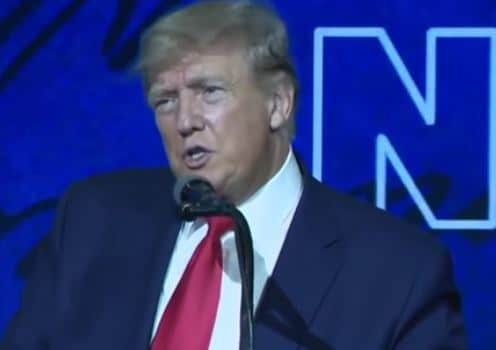 Here's the bad news:
She was awarded $5 million because the jury of six men and three women found him guilty of forcibly touching her and sexually abusing her. In addition, he was found liable of defaming her last fall saying "she" made up that account.
Who is "she"?
She's Elizabeth Jean Carroll who goes by E. Jean Carroll. She is 79 years old. She's an American writer, journalist and former columnist for Elle magazine who doled out sex, career and other advice for more than 20 years. Since 1993, she wrote a monthly column "Ask E. Jean" for Elle and by all accounts was paid $120,000 per year for 12 columns consisting of 1,800 words each. When Ms. Garcia took over in 1917 as Editor-in-Chief at Elle, she wanted to reduce E. Jean's contract to $60,000 per year for 12 columns consisting of 900 words. In December 2019, they declined to renew her contract.
Who is Ms. Garcia?
Ninotchka "Nina" García, born in Columbia, raised in America. She worked in the Public Relations Department with Perry Ellis in the 1980's and their designer Marc Jacobs. She's 58 years old and has been back and forth between several magazines. She went to Marie Claire, the French fashion magazine, but is currently at Elle. She's been a judge on Project Runway since it's first season.
Elle is the world's largest fashion magazine. E. Jean claims she was fired due to Trump ridiculing her reputation, her looks and dragged her through the mud. Elle maintained her contract termination was a business decision and had nothing to do with Trump.
In 2019, E. Jean published a book of her memoirs titled: "What Do We Need Men For? A Modest Proposal." It's her account of being mistreated and harassed by a series of men. Here's a possible fly in the ointment. She released excerpts of her book to a New York Magazine instead of ELLE. I've read that some current and former Hearst employees spoke to The Times anonymously for fear they would be faced with repercussions in their jobs if they said anything about E. Jean's termination at Elle due to not giving her excerpt from her book to Elle first .
While E. Jean was claiming that Trump raped her, the incident supposedly took place in the dressing room of Bergdorf Goodman department store in the mid 1990's. Why did it take 28 years to come to Court? Nevertheless; the jury of nine came back in just three hours with their verdict. Trump's guilty. Not of rape because the statute of limitations applied. But of all the rest; sexually abusing her and forcibly touching her and of defamation.
Why didn't she call the police? She says she called friends after the incident and one of them recommended she call the police. She didn't.
Comments over social media range the whole gamut, but here's one that seems pertinent;
"The left is so scared he will be president so they keep paying people to try to destroy the only person that can save this country that they so hate."
How did E. Jean afford her attorneys?
Ever heard of LinkedIn? According to Trump's attorney,  Alina Habba, E. Jean failed to disclose she received funding for the lawsuit from co-founder of LinkedIn, Reid Hoffman, a billionaire and donor to the Democratic party.
But wait, according to E. Jean's attorney, Roberta Kaplan, who opposed a delay in the trial, her client recollected additional information and stated, "Accordingly, we promptly disclosed to Trump's counsel that, while Carroll stands by her testimony about this being a contingency fee case she now recalls that her counsel at some point secured additional funding from a nonprofit organization to cover certain expenses and fees."
Wonder who that non-profit organization is? Looks like Hoffman gave $600,000 to a legal defense fund tied to Fusion GPS.
Fusion GPS is a commercial research and strategic intelligence firm based in Washington, D.C. The company conducts open-source investigations and provides research and strategic advice for businesses, law firms and investors, as well as for political inquiries, such as opposition research.
One of the things they worked on: Trump–Russia dossier and Christopher Steele. Remember that their report was filled with bogus information and completely discredited.
The one case that Fusion GPS worked on that irks me the most: Planned Parenthood (PP). That's when video's were taken of PP selling fetus body parts and tissues. Instead of PP being indicted,  anti-abortion activists David Daleiden and Sandra Merritt from The Center for Medical Progress were charged with 15 felonies.
Time will tell. Trump's legal team will probably appeal. Meanwhile, we're still stuck with President Joe Biden; the worst President ever, in my humble opinion.