By Jaime Yarbrough – August 30, 2022
HUNGRY? TIRED OF BURGERS, PIZZA AND TACOS ??
NO ENERGY TO COOK, MUCH LESS DO DISHES?
BORED WITH ASIAN AND MEXICAN FOOD ?
I HAVE YOUR SOLUTION:
SCHMIDT'S HOUSE OF JAMBALAYA !!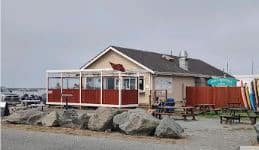 Whether brunch, lunch or dinner, this All American Cajun and Creole cuisine will get your gastric juices flowing. Can't get off the couch, or don't feel like driving, they offer delivery and take-out too.
Should you choose to have a sit down meal with friends and family, or, just by yourself, you can dine in or, weather permitting, on their open air enclosed deck. There's something special about eating this kind of food with the sights, sounds and smell of the Pacific Ocean. Seagulls and harbor seals add to the ambiance once in a while.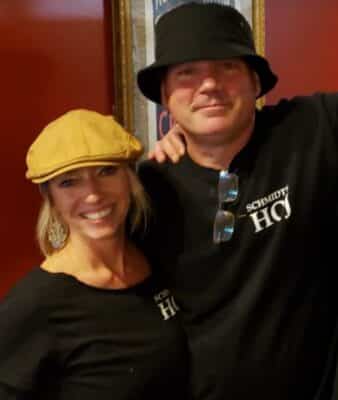 Mike and Jennifer Schmidt have and do pour their souls into each and every order from the simple garlic buttered shrimp skewers to their handcrafted original recipe signature jambalaya. Every attention is paid to the detail of consistency and quality. The wait staff are knowledgeable, amazingly friendly and helpful in assisting you make up your mind which delicious entry you want. As well they know exactly which beverage will pair with each item on the menu.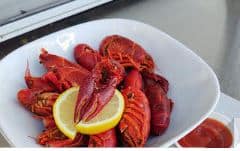 They have a full spectrum of beverages from the light non-alcoholic drinks, sodas, kombucha, juices, as well as local craft beers from our local breweries, hard cider, red and white wine. And don't forget the kids menu and…..wait for it . . . .ICE CREAM for dessert!
Should you follow them on Facebook, look for periodic special musical events both indoors and outdoors (usually during the summer). AND, if you are in the active crowd be sure to check out the Crescent City Surf Shop next door to take advantage of the water across the way!
Above all, don't just take my word for it, at the bottom of the page is their YELP listing 4.5 out of 5 STARS !! See their website for location and operating hours.