May 20, 2022
Friends and Families are sure to enjoy the natural surroundings at Del Norte's two great golf courses. Kings Valley Golf Course, and Del Norte Golf Course both feature 9 hole golf courses suitable for all ages, and experience levels.
Kings Valley Golf Course is a fun par 3 that will challenge any player's short game. Nestled within a few hundred yards from Jedediah Smith State Park, the Giant Redwoods fence the eastern horizon. The clubhouse was recently renovated and large flat screen T.V's are installed inside, and at the outside patio. Kings Valley Golf Course has a pool table inside the spacious clubhouse, and offers a selection of snacks and appetizers. This is great venue for family/friendly golf, billiards, watching games, and enjoying good conversation at the full bar. Kings Valley Golf Course is open 7 days a week 9:00 am. To 7:00 pm. Call 707-464-2886 to ask about a Tee-time, or schedule your next event.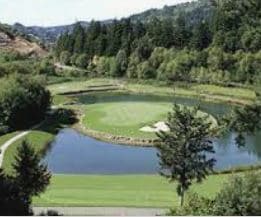 Del Norte Golf Course is a picturesque landscape that can be forgiving for beginner golfers, yet challenging for experienced players. Located at 130 Club Drive, climbing and winding through the Smith River mountains, the 9 hole course measures approx. 3,000 playable yards. Cart's are available to drive the course, otherwise walking will insure you get your daily steps in. Del Norte Golf Course caters to events, and offers lunch's. Enjoy refreshments from their full bar while overlooking live play. Or, watch golf tournaments on one of their many T.V's, while playing pool, or shaking dice. Del Norte Golf Course is open 7 days a week 8:00 a.m. to dusk. Call them at 707-458-3214 to inquire about their facilities, or book a Tee-time.
Our County's two golf courses are great venues for exercise, social activities, enjoying the outdoors, and supporting hard working local families and business's. Go enjoy GOLFING, and the relaxing facilities.