By Roger Gitlin – EYE ON DEL NORTE – August 25, 2021
The long, sad legacy of the Crescent City Harbor Commission of bullying, belligerence and bad faith business practices continues.
I share with you the story of 86 year old Crescent City widow Rachel Towe. Four decades ago, Rachel and her husband Ken opened up the Harbor RV Anchorage Park off Starfish Way. The successful business provided quality sites for RVers, until 2006 when the Harbor District decided to go another direction, changed costumes and transformed from landlord to prospective owner. Meanwhile, the Harbor District dutifully collected a 21% rental fee on the Park.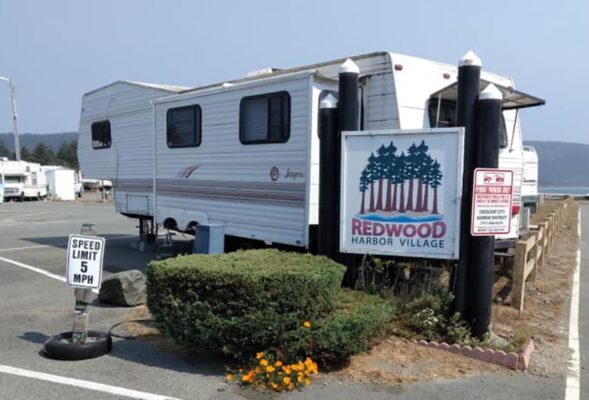 The two parties could not agree on a fair price. An appraisal was never presented by the Harbor Commission. Meanwhile the lease clock continued to tick down. The Harbor District purchased the Bayside RV Park in 2016 for a reported $1.2 million but nothing like that offer was presented to Harbor RV Anchorage.
As the waning years, weeks days and hours of the expiration year lease approached, the Harbor Commission refused to negotiate a new lease with Rachel Towe, whose husband past away in 2013. The long standing Harbormasters, Richard Young then Charlie Helms patiently and methodically engaged in bad faith negotiations with Ms. Towe. Do I believe the Harbor District and the two Harbormasters took advantage of this frail widow Ms Towe?
A B S O L U T E L Y !
Without fanfare and under the very quietest of circumstances, the malicious Harbor Commission expropriated Harbor RV Anchorage Park at zero cost and quiety changed the name of the Park May 31, 2017 to Redwood Harbor Village. The Harbor Commission even had the gall to retain the same phone number!
All the existing tenants, all the improvements made by the Towe's were gobbled up by the predatory Harbor Commission.
The one question that lingers in my mind is why would the Harbor District act with such depraved indifference in not compensating the Towe family with a fair price? Greed!
Two of the five sitting commissioners are on the Harbor Commission today…
*Brian Stone, President
*Wes White, Secretary
The unfair and unethical practices continues as the Harbor Board bullies up on long-term tenant Fashion Blacksmith by failing to dredge the Harbor for almost a decade, preventing tenant Fashion to attract new business past, current and future in what one could only surmise is a deliberate attempt to push this tenant off the pier and into the soft silt of economic dredge mud, then grab up the spoils of their unethical business practices.
There will be more to report on this continuing legacy of bullying, belligerence and bad faith business practices by the Crescent City Harbor.