By Jaime Yarbrough – January 17, 2023
Last Wednesday 11 January about 13 people got together at the Family Resource Cente4, 494 Pacific Ave, at 5:15 – 7 PM for the first meeting of 2023. On the agenda for this meeting was:
Introduce the Community Food Council's new steering committee and staff.
Identify the role, responsibilities and expectations of the New CFC Steering Committee.
Orientation and overview of current grants and projects
Identify community stakeholders and opportunities in relation to current grants/projects.

The DNATL Community Food Council is a group of individual residents and agency representatives who are working together to build a local food system that provides healthy, culturally appropriate food to all families in Del Norte and Tribal Lands (DNATL).
As I recognized my future was going to be centered around fungi/mushrooms and their consumption I found the CFC when this first started. It has grown considerably since then and continues to draw interested and interesting members of the community. We are all aware we live in a 'rural' community and due to the fragile nature of both the routes in and out of Del Norte but our economy, we realize that food security and optimization of our food supply is in the community's interest.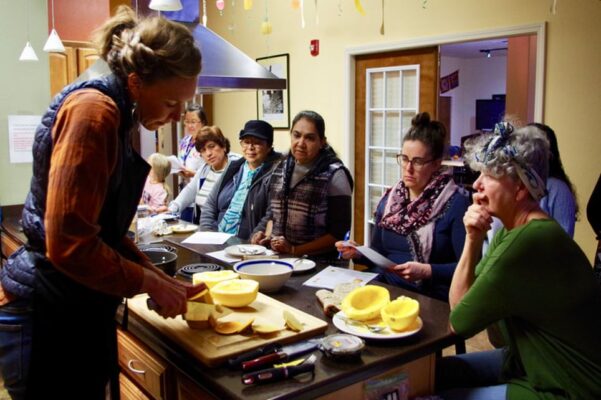 Besides the possibility/likelihood of a need for disaster relief in an earthquake, tidal wave, flood area, having an effective distribution of food to the economically challenged and in the 'food deserts' of the outlying area is important. This requires community involvement, and guidance who can set policy and establish a structure for a system that will meet the needs of everyone.
The main areas of focus for the Food Council are:
Increase food security & access to fresh vegetables and fruit
○ Food Security Task Force
○ Pacific Pantry
○ Mobile Pantry
○ Food Recovery Program
○ Seamless Summer Lunch
Increase our local food economy
○ Eat Local Guide
○ Producer/Food Business trainings
○ Connecting producers to local markets
○ Purchasing from local producers
○ Promotion of local farmers
The Community Food Council operates Pacific Pantry, a choice-based food pantry located at the Family Resource Center of the Redwoods. Learn more about the Pacific Pantry. And, has partnered with the Tolowa Dee-ni' Nation to develop four food forest sites across DNATL. The CFC manages the Crescent City and Klamath Food Forest sites. Learn more about the Food Forest projects.
For more information contact Andrea Lanctot, Food Program Director
At (707) 464-0955 ext. 2116 and or visit their website at