By Angry Old American
Copyright Angry Old American, August 20th, 2021. All Rights Reserved.
The Constitutional Sheriffs and Peace Officers Association (CSPOA) was founded in 2011 by Sheriff Richard Mack from Arizona. Sheriff Mack was a member of Ron Paul's Oath Keepers and a lobbyist for the Gun Owners of America (GOA) during their successful constitutional fight against the Brady Handgun Violence Prevention Act. At the heart of the Constitutional Sheriff's and Peace Officers Association is strict adherence to their oath of office; to protect the Constitutional rights of all their citizens against all enemies both foreign and domestic. It should be no surprise that the CSPOA has been branded by our politicians and mainstream media as dangerous "Patriot Extremists."
Of all the elected officials in every County and Parish of the United States, the Sheriff is the most important. This has been so since the framers of the Constitution encouraged the establishment of the office of Sheriff. While National Congressional Representatives and Senators, State Governors and Representatives, and Local Commissioners, Superintendents, and Councilmen notoriously sell-out their oath of office in order to curry favor from special-interest constituents and pay-for-play cronies; the Sheriff often is the only protector of civil rights for the average citizen. Even Prosecutors and Judges have become pawns of political favoritism; but the Sheriff historically has the power to stand aloof. The Sheriff, as an independent elected official, has the power to ignore the dictates of County, State, and even Federal authorities who breach the boundaries of the US Constitution and our Bill of Rights. Not that this is always the case, as many Sheriffs have sold-out their oaths of office and become toadying servants of local tyrants. Yet, with a County Sheriff possessed of courage and conviction, there is potential for the average citizen to have a protector.
Already, three Nevada Counties have become "Constitutional Counties" due to the presence of their Constitutional Sheriffs. What is a Constitutional County? It is a county that refuses to enforce Local, State and Federal laws which breach the limits of the Constitution and infringe upon their citizen's Bill of Rights.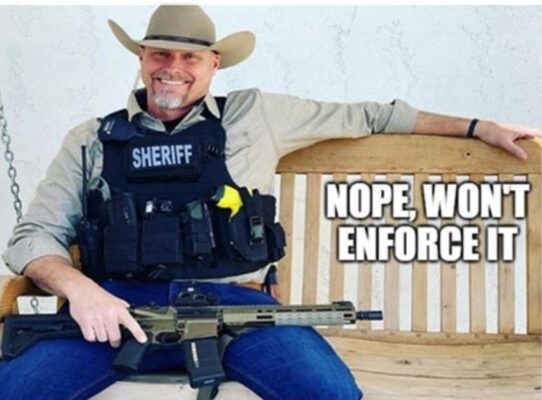 Constitutional Counties protect the rights of free speech and religious observation. At last count there were 1,930 "Second Amendment Sanctuary Counties" throughout the USA where ownership and open carry of firearms is permitted, and often encouraged. Search and seizure of personal property without due process of law is prohibited in Constitutional Counties. Vaccine and mask mandates, business closures, prohibitions of free movement, and other infringements of personal liberties are not enforced in Constitutional Counties. Government protection of Antifa, Black Lives Matter Movement cultural revolution, rioting, looting, arson, mayhem and routine shoplifting and theft are not tolerated in Constitutional Counties. It all starts with a Constitutional Sheriff!
I encourage the reader to research Sheriff Mack and the CSPOA. Ask yourself if Del Norte County would be well served by an independent Sheriff that has the guts to take a stand against our local "government" gangsters, the State of California political machine, and the Chinese Communist Party's puppet government.
Does Del Norte County need a Constitutional Sheriff? Does our present Sheriff have the will and guts to defend our Constitutional rights? Will he take a public stand and declare Del Norte County to have a Constitutional Sheriff? If not, are there any Deputies or Law Enforcement officials that take their oaths seriously, support the Constitutional Sheriffs Movement, and will run for the office of Sheriff? Would we be better off as a Constitutional County, where our constitutionals rights over shadow partisan politics, and crony favoritism?
Here are some links to get started –
Constitutional Sheriffs and Peace Officers Association:
Conference
Defend Rural America:
https://www.defenduralamerica.com/DRA/Constitutional.html
Second Amendment Sanctuary Counties:
Home