Opinion By Donna Westfall – May 18, 2023
In the past, the City of Crescent City has tried to increase sewer rates and were defeated by ratepayers utilizing Prop 218.
This year, the County of Del Norte sent out Notices of a Hearing to take place on June 28 about increasing the sewer user rate fees up to 245% over 5 years.
There are 3,347 users affected. This rate increase would go on the property tax bill. For those paying $72/year, you'll see that eventually increase to $176/year.
Prop 218 allows for 50% + one to defeat rate increase. That equals 1,674. Preferably more signatures should be submitted than 1,674 because the County will find all kinds of reasons (excuses) to discount signatures.
There are 2 parties that can sign but only 1 signature per parcel will be counted:
The owner, or
The tenant that pays the water/sewer bill
For those of you that are ok with the increase, you can stop reading now.
For those of you that can't afford the increase, read on because with inflation and already high rents, what do you think will happen when landlords have to cough up more money? That's right. Increase your rent.
Again, only 1 signature per parcel is allowed. And only in the affected areas. Here's the map the County provided. Street names will be provided soon.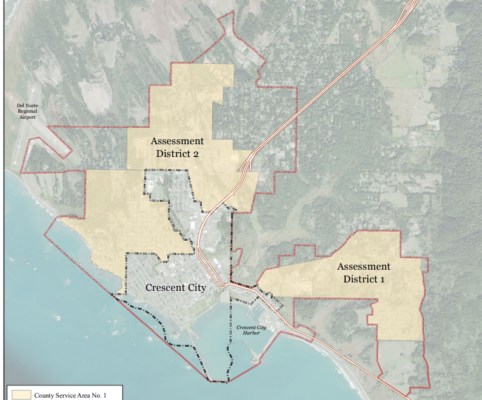 Here's the form to fill out: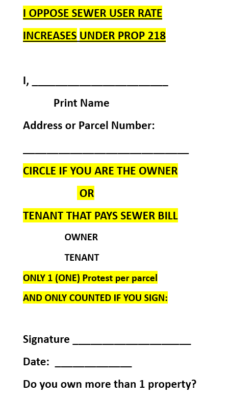 Prop 218 allows 45 days to collect/submit signatures. Do not wait. Get these forms filled out and submitted in person or mailed: (It would be best if you made a copy for your records before submitting, and if you walk it in, have them date stamp your copy.)
Del Norte County Clerk/Recorder
981 H St., Suite 160
Crescent City, Ca. 95531
If you wish to attend the hearing it is taking place at 9am, Wednesday, June 28th. You can make public comments, but if you do not submit a written protest, your public comment will not be counted as a Prop 218 protest. Again, it must be in writing.
If you want to help, please send comments to this article. The needs are for:
Coordinator
People to sit tables at post office and water department
People to knock on doors (usually 7-10 sigs in a hour is customary. 10 people working an hour a day results in 100 sigs a day…. do that for 17 days and it's done.)
People to make telephone calls
People to verify information at the county before submitting protests.
Target date: Try to submit over 1,700 signatures by June 27th.
The clock is ticking.