FREE WORKSHOP
Join us at the DNATL Community Seed and Plant Exchange at the Family Resource Center of the Redwoods on Sunday April 16th at 2 PM for a FREE workshop from Eddie Tanner on gardening tips specific to our coastal climate region!
(He's kind of a big deal.)
Eddie has been farming professionally in NorCal since 1999. Before starting DeepSeeded Farm in 2008, he was a manager of the UIHS Potawot Garden and the Arcata Educational Farm. He got his start in farming at Live Power Farm in Covelo. He likes to lead classes & workshops, and is the author of "The Humboldt Kitchen Gardener," a local gardening handbook. Eddie earned a B.S. in Soil Science from Humboldt State University, and later a M.S. in Agriculture from Washington State University.
Currently, he represents the UC Cooperative Extension as the Specialty Crops and Horticulture Advisor for Humboldt and Del Norte Counties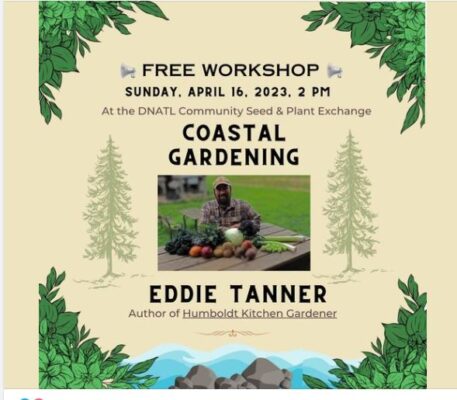 DATE: Sunday, April 16, 2023
TIME: Starting at 2 pm