By Patrick Delaney = September 23, 2022
(LifeSiteNews) – A well-known pro-life author, sidewalk counselor, and father of seven was the latest victim of a U.S. Department of Justice-sponsored SWAT raid and arrest — for supposed "FACE Act" violations — at his rural home as his children looked on "screaming."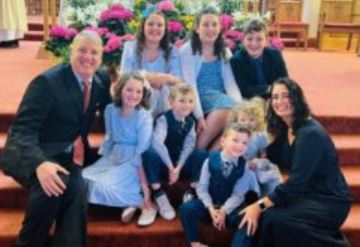 Mark Houck is the founder and president of The King's Men, which promotes healing for victims of pornography addiction and promotes Christian virtues among men in the United States and Europe.
According to his wife Ryan-Marie, who spoke with LifeSiteNews, he also drives two hours south to Philadelphia every Wednesday to sidewalk counsel for six to eight hours at two different abortion centers.
Ryan-Marie, who is a homeschooling mother, described how the SWAT team of 25 to 30 FBI agents swarmed their property with around 15 vehicles at 7:05 a.m. this morning. Having quickly surrounded the house with rifles in firing position, "they started pounding on the door and yelling for us to open it."
Before opening the door, she explained, her husband tried to calm them, saying, "'Please, I'm going to open the door, but, please, my children are in the home. I have seven babies in the house.' But they just kept pounding and screaming," she said.
When he opened the door, "they had big, huge rifles pointed at Mark and pointed at me and kind of pointed throughout the house," Ryan-Marie described.
When they came in, they ordered the kids to stay upstairs. "Our staircase is open, so [the kids] were all at the top of the stairs which faces the front door, and I was on the stairs as well, coming down."
"The kids were all just screaming. It was all just very scary and traumatic," she explained.
After asking them why they were at the house, the agents said they were there to arrest Mark. When Ryan-Marie asked for their warrant, "they said that they were going to take him whether they had a warrant or not."