By Donna Westfall – November 19, 2021
FANTASTIC!
We have a state-of-the-art auditorium at long last. The last time the auditorium was dedicated was in 1929.
Thanks to two visionaries, Nick and Lisa Rail and a whole slew of others in the community, this reconstruction project was completed in 18 months. They are also responsible for donating 100 musical instruments to the school and planning on donating another 100.
Tonight was the culmination with energetic performances by the Del Norte High School Steel Drum Band, their Jazz Band, a dance performance and a special guest star, Jacob Scesney from Ojai; our hometown. He's a young talented man in his 20's that has an impressive resume.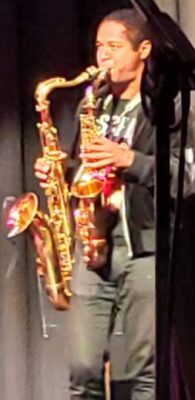 He has toured all over the world and shared the stage with names like Seth MacFarlane, Casey Abrams, Robben Ford, Christian Scott, Warren Hill, and Shadmehr Aghili, and he has also made appearances on the show Glee. A multi-instrumentalist, Jacob has a serious gift for music, especially the Saxophone. Not only that, he's very entertaining with a smile that lights up the room, Mr. Personality Plus. It was really something to see him play two instruments at once.
When the Jazz Band played a song by Big Bad Voodoo Daddy, Doug and I looked at each other. We hadn't heard their music since my son's wedding 25 years ago in Montecito. That group played at their wedding reception. Brought back fond memories.
To end the evening, Jacob was part of a quintet that performed three tunes, one from the Sound of Music. That was supposed to be the end of the evening, but a sixth joined with a trombone to end the evening with one last tune. Back to Jacob. He played one note on the saxophone longer than anyone I've ever heard. I don't know how he did it.
It's absolutely thrilling that our students can play with Jacob Scesney. He's truly an inspiration.
The BIG surprise was announced by Nick Rail. They are planning on building a 1,000 seat Performing Arts Center on Del Norte High School grounds to be completed by 2028.