Submitted by Ron Eheman
GRAND RAPIDS, MI – A retired engineer who wants to take fluoride out of the city's water is the first official candidate for mayor.
John George
John George this week submitted papers to get on the August primary ballot. Three other people have filed campaign finance forms, indicating they intend to become candidates.
George, 63, says he has talked to Grand Rapids leaders about removing fluoride from the water, but they haven't done anything about it.
"I think this is a big issue and, quite frankly, I have no political future to worry about," he said. "I'm worried about the people of Grand Rapids. I think we're doing them harm.
"If I win I can for sure do something about it, and even if I lose there's going to be (people becoming aware of fluoride) who start asking questions. I look at this as a no-lose proposition."
RELATED: 'Look Ma! No cavities!' Wired report examines fluoride effort that started in Grand Rapids
Grand Rapids in 1945 became the first U.S. city to put fluoride in its municipal water supply to improve dental health. Many cities since have followed suit, and the Centers for Disease Control listed water fluoridation as one of the nation's 10 great public health achievements of the previous 100 years.
But there's some concern about the toxicity of fluoride, and some evidence shows it might cause health problems.
George in 2012 urged Grand Rapids City Commission to consider removing fluoride from the water. He submitted a paper citing research that fluoride can cause bone damage and lower people's IQ, and he suggested that fluoridated toothpaste can provide the dental benefits instead of water.
"Unless the commission can state with 100-percent certainty that ingested fluoride isn't harmful, why is it forcing the citizens of Grand Rapids to use it?" he wrote at the time.
On his campaign Web site, George writes that he's running for mayor because "there is nothing I could do in my life that would affect such a large number of people in such a positive way" as to remove fluoride from the city's water.
The city's water goes not only to Grand Rapids residents, but also to water customers in East Grand Rapids, Kentwood, Walker and in Ada, Cascade, Grand Rapids and Tallmadge townships as well as some parts of Ottawa County. The city's 2014 water quality report lists fluoride content at 0.71 parts per million.
That's on track with optimal levels to prevent tooth decay, although concentrations in Grand Rapids water have ranged higher than that for much of the past 70 years.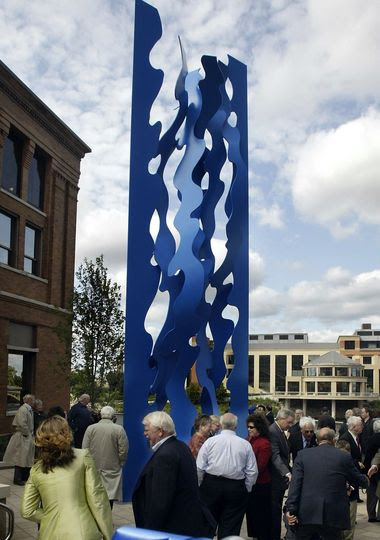 "Steel Water," a sculpture by Dutch artist Cyril Lixenberg near the JW Marriott in Grand Rapids, commemorates Grand Rapids being the first city to fluoridate its water.MLive.com file
Grand Rapids in 2007 commemorated its role as a fluoridation pioneer by dedicating a new riverfront monument near the JW Marriott hotel. But there also has been some latent interest in removing fluoride from the city's water supply in recent years.
The city briefly considered an end to water fluoridation in 2008, for example. And Third Ward Commissioner Senita Lenear last fall broached the idea again.
"There are hundreds of cities that have already taken it out," George said. "We were first in the nation to put it in, but I don't want to be last in the nation to take it out."
RELATED: With George Heartwell term limited, who will run for Grand Rapids mayor?
Grand Rapids voters last November enacted term limits, prohibiting the mayor and city commissioners from serving more than two four-year terms. Finishing up his third term this year, Mayor George Heartwell is ineligible to seek re-election.