Opinion Piece By Roger Gitlin – February 23, 2021
Unequal justice? Mayor Pro Tem Alex Campbell is under attack.
In May of 2020, Candidate Campbell declared he was establishing City residence to run for the Council. He declared he intended to live at least four days a week at his City domicile, establishing his residence.
It would appear some nasty City and County forces, and other malcontents don't like Alex Campbell 's voting record and his opposition to Measure S tax increase and have filed a complaint with the District Attorney, Kathryn Micks. Result: Alex Campbell is facing three felony charges.
Is this overkill or just plain old hypocrisy? A lot of BOTH.
I find it more than curious former City Councilor Alex Fallman stated he lived with Slot Gacor Hari Ini residents Michael Tompkins and Patricia Black on 4th Street, and never lived there. Fallman efforts were clearly fraudulent. He was a full time student at Humboldt State, in Arcata for his entire City Council career, yet he voted on all matters Crescent City. Were felony charges brought up against Mr. Fallman? NO! Where was the righteous indignation from Mayor Blake Inscore and City Manager Eric Wier on Alex Fallman? There was none because Mr. Falman voted in accordance with all issues supported by the establishment, including the ridiculous City funding to travel to Japan on the frivolous Sister City Program.
Now, these truly misguided ideologues/and sour grapers are going after Mayor Pro Tem Campbell. I'd say that is dramatically hypocritical! There are others who shall be identified in this sinister act of overkill; they will be named shortly. Alex Campbell's voice must not be squelched or stifled by truly nasty forces with an ax to grind. Involving the District Attorney in this malicious prosecution is vicious and vile. The DA will regret this odyssey into the Del Norte swamp.
We will be helping to raise funds for Alex's defense. Please let us know if you can assist Alex in his hour of need.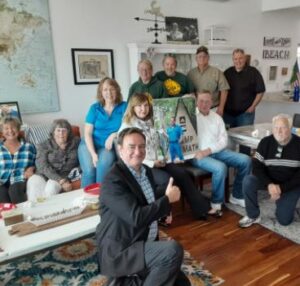 Contact Roger Gitlin, City Resident, Supervisor District 1 (retired)