April 30, 2019 –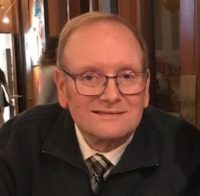 Former Crescent City Fire and Rescue Chief, Stephen Wakefield passed away on Thursday, April 25th.
He suffered a first stroke on January 24th last year with a second one striking on February 11th.
According to his wife, Debra, "It is with great sadness that I tell you we lost a great man last night. A man who loved his family, his firefighters, his friends and his community with all his heart. A 3rd stroke struck him early Tuesday morning, and it's damage was too great to be survived. He hung on and as he exited this world on Thursday, his grandson Mason Stephen Wakefield made his entrance. We know that Steve was waiting for Mason Stephen to make make a safe arrival before he let go.There will be a Celebration of Life this Saturday, May 4th."
Out of respect, the Del Norte Republican Party has postponed their Wine and Cheese event due to take place at the time time.  All tickets purchased will be refunded.