By Donna Westfall – April 5, 2022
Thanks in part to the action of pro-lifers across the country, the vote on President Biden's Supreme Court nominee, Judge Ketanji Brown Jackson, (KBJ) in the Senate Judiciary Committee was deadlocked at 11-11.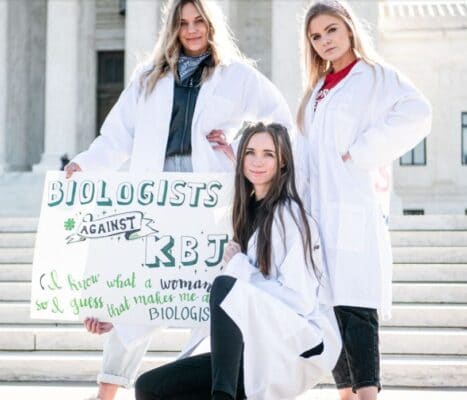 You would think that would be the end of it, but Senate Majority Leader Chuck Schumer (D-NY) announced he'll use a procedural move called a discharge petition. That procedure requires a simple majority vote in the U.S. Senate – to override the Judiciary Committee's tie.
According to Kristan Hawkins, President, Students for Life Action, with Republican Senators Mitt Romney (R-UT), Lisa Murkowski (R-AK), and Susan Collins (R-ME) having already announced their intentions to side with Majority Leader Schumer instead of pro-lifers her confirmation may indeed take place!
Hawkins goes on to say, "despite all the grassroots opposition (Students for Life Action alone delivered over 34,000 signed petitions and sent 20,301 messages directly to Senators from their constituents in just a matter of days), these Senators STILL decided to stab pro-lifers in the back."
The only light at the end of the tunnel is that 2022 is an election year. Students for Life is spending money in Alaska to make sure Murkowski's constituents know exactly where she stands by purchasing TV time for ads.
Hawkins ended by stating, "As you may remember, Judge Jackson claimed she "wasn't a biologist" so she couldn't define the word "woman." This was a huge eye-opener to pro-lifers (and even many "pro-choice" Americans) of how radical President Biden's nominee really is.