By Roger Gitlin – Eye on Del Norte – April 13, 2021
The Harbor District has closed all restrooms, (EXCEPT ONE on B Dock). The reasons for the closures are Covid-19 related, which makes no sense.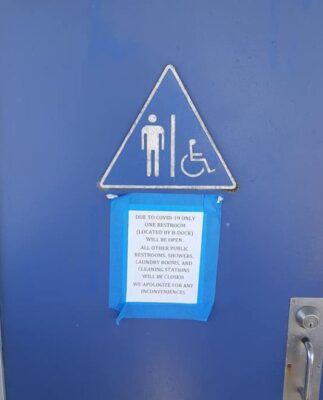 Public defecation and urination has been observed at the closed Harbor public restrooms, this past week-end but will not be displayed on this FB post, for the sake of public decency. This is most definitely a public health/ hygiene issue.
The Harbor District apparently does not embrace the biological needs people have to relieve themselves.
It is patently unfair, if not borderline illegal to burden Harbor businesses with unwanted restroom solicitation attributable to decisions (probably 5-0) by District comissioners.
Is this the message the Harbor District commissioners wish to send to the travelling public including families with children?The modest savings in not needing to maintain basic biological needs is short-sighted and makes zero sense.
Open ALL the bathrooms now and stop blaming your unwise business decisions on the Covid.