By Linda Sutter – April 22, 2022
Deplorable unsafe conditions!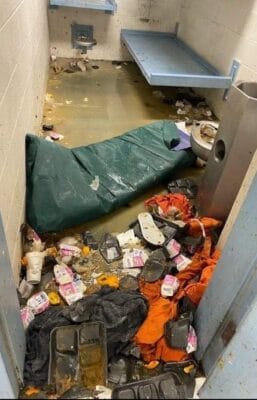 The pictures you are looking at is one cell in the Del Norte County Jail. The inmate who resides in this cell is mentally ill. In the pictures you can clearly see approximately 20 milk cartons, and 10 trays which implies this has been built up for approximately 5 days or more. The door has a combination of rust and feces decorating it. The toilet is completely plugged, and I can't imagine the smell.
A few years back, a woman was convicted by the District Attorney for keeping her RV looking like that and housing dogs. Who will convict the officers/deputies for not doing their job? Is it ok to allow the Officers to keep a very unhealthy environment within the Jail?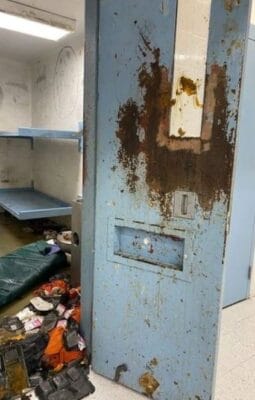 Tuberculous, Hepatitis, and MRSA come to mind with this environment. As a former Correctional Officer there were policies, regulations and laws that prevent this. But as usual no law north of the Klamath. I imagine we will hear every excuse under the sun about why this cell was kept the way it was. But the bottom line is there is no excuse. I wonder if they have a hazard inventory where the officers are supposed to keep cleaning supplies to disinfect these scenarios. I pretty much doubt they would know what that looks like. I can't begin to imagine what the Officer's stations look like.
Yet with that said, these department heads want to tax the people with Measure R and this is what we get? If you are not outraged with this there is something severely wrong.
In the meantime, I will fax a copy of this article and the pictures to Northern California ACLU. This county does not know what professionalism is, These photos could be construed as a violation of the 8th amendment; cruel and unusual punishment. Not to mention the safety of other inmates and staff and possibly bringing home disease.