By Donna Westfall – October 3, 2020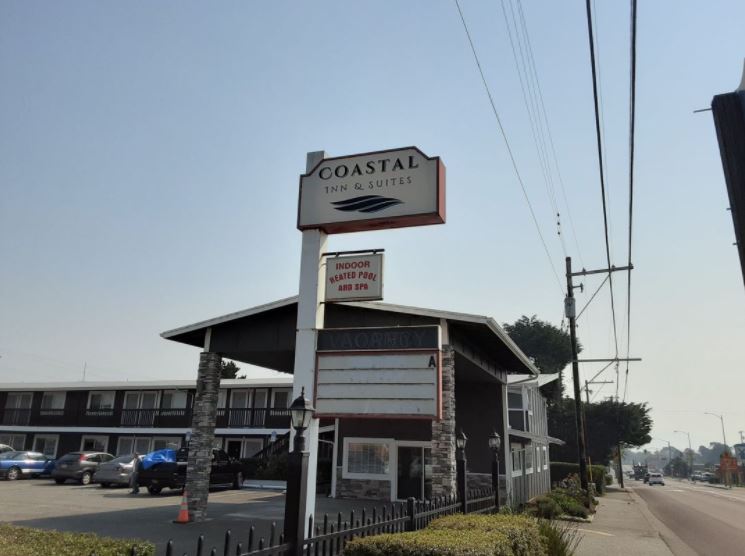 I've been reading information provided by Heather Snow, the Director of Health and Human Services about the $2.4 grant money to purchase Coastal Inn and Suites for a permanent homeless facility.
Years ago, I wrote about the Oxford Houses springing up in our community. The criteria for entering an Oxford House is to be clean and sober. Not so with gaining entry to the permanent homeless housing proposed at Coastal Inn and Suites. In my opinion, this is the WRONG LOCATION FOR THIS TYPE OF VENTURE!
Here's 1st District Supervisor Roger Gitlin's information that goes into more detail:
"I have been asked to pass on this information by organizers of the Protest Rally and Opposition to the County of Del Norte purchasing the Coastal Inn and Suites from the Jenny Depew family. IF the Board approves the sale, the Department of Health and Human Services, under Director Heather Snow, will own the Motel situated between the 101s at 7th St, near Walgreen's.
This is a very ill-thought out move.
The City, opposes the sale, and hopes the County will find another location, and will lose valuable Transient Occupancy Tax revenue of about $34,000 per year and the County and City will lose valuable property taxes as the motel MAY soon be a government-owned permanent housing facility for the homeless.
The purchase will be facilitated by by a State grant from Operation Home Key. The grant request is for $2.4 million.
I wish to be very clear: I believe the County and City should have a homeless facility at another location. It was my suggestion to have the facility situated at the vacant McCarthy School, on Williams Dr. Indeed, renovations would be needed but doable. The placing of this facility through the spine of Crescent City is beyond inappropriate and will cause damage to the City. It is wrong.
The Rally will be held along the public sidewalks on 101 North and South where the Coastal Inn and Suites is located.
The Rally of Opposition will take place Thursday, October 8 at 11:00AM-12 Noon
Please bring your sign, American flag and your friends to STOP this transaction from taking place. They will have extra signs.
The Board of Supervisors will vote on the purchase, Yea or Nay, Tuesday, October 13 at 10AM. Regrettably, the BOS has insulated itself via ZOOM meetings so you must make your sentiments known to each of the Board members:
Here they are:
Gerry Hemmingsen, Chairman, ghemmingsen@co.del-norte.ca.us
(707) 954-4131
Lori Cowan, 2nd Disrict, lcowan@co.del-norte.ca.us (707) 218-7040
up for re-election in November
Chris Howard, District 3, choward@co.del-norte.ca.us (707) 218-7872
Bob Berkowitz, District 5, bberkowitz@co.del-norte.ca.us ( 707) 951-5294
and myself; rgitlin@co.del-norte.ca.us (707) 951-6361
Text, email or better yet, call your representative on the Board, NOW !
See you all, Thursday, October 8."
Some of this scuttlebutt is being played out on facebook:
I texted my objections to my supervisor Bob Berkowitz and he says the motel has been used to house the homeless for years.
When I worked for social services we housed homeless in the old Gardenia motel that had to be sold & is now Motel 6. They destroyed that motel with fights, drugs, just plain destructive behaviors!
This is a terrible place for this!