By Donna Westfall – February 14, 2022
Even though many Americans saw their wages rise in 2021 in part because the minimum wage increased, they received an effective pay cut because of the skyrocketing inflation caused in large part by Joe Biden's socialist spending spree.
When will people wake up to this truth? I don't consider this good news.
But, here's another truth running rampant across America and it's considered good news:
A SIX PAGE PROPOSED INDICTMENT BY "WE THE PEOPLE".
Here's page 1: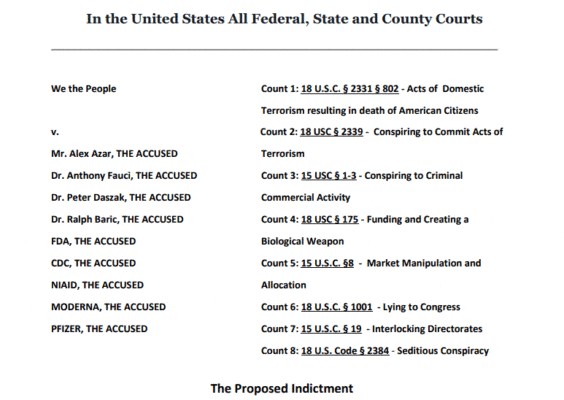 Now if that doesn't cause you to break out in a big grin, the only thing better than this would be seeing charges of treason filed against the worst President in the USA (Biden).
To read the entire indictment go to this address: constitutionallawgroup.us and download the document.
Because it is Valentine's Day, they are asking for us all to participate in public protests around DA's office. But, I've already filed the Proposed Indictment with the DA's office.
"For Our Love of Freedom St. Valentine's Day, Monday, February 14th, 2022, 3pm EST –
* THIS IS A NATION WIDE CALL TO ACTION!*
The proposed indictment that we are providing is the evidence necessary for your county prosecutor to file a mass tort claim in the name of We the People and expose the crimes against humanity.
By providing every county prosecutor in America with this evidence, We the People set off a coordinated, nation-wide criminal investigation into these crimes against humanity.
If any county prosecutors fail to initiate a criminal investigation, We the People shall hold them criminally and civilly liable for their complacency of ignoring the mass genocide plaguing America and the world and we shall pursue their indemnity bonds.
It is time for We the People to stand in unison to end the unlawful tyranny that has harmed and affected all of humanity.
Please watch the instructional video at the top golden button and sign up to receive the free document and other valuable information."