By Roger Gitlin – EYE ON DEL NORTE – August 9, 2021
A protest crowd of about 75 gathered on both sides of Washington Blvd in front of Sutter Coast Hospital declaring their medical freedom of choice not to be vaccinated against the Covid 19 virus. The heavy hand of oppressive government is becoming more aggressive against those who refuse to be vaccinated.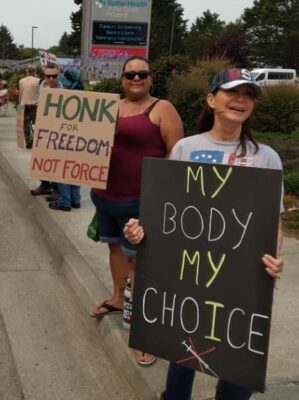 NOTHING surprises me the level of depth our Government will debase itself, in order to force us to comply. Very dangerous.
I support one's right to choose if one refuses to be vaccinated. More and more stories are becoming known of serious consequences for those who have been vaccinated.