By Donna Westfall – January 8, 2021
This morning, we said good-bye to some overnight visitors, a couple in their 20's. Their home, a town called Hesperia. We're familiar with the area having spent 8 1/2 years in the Southern California high desert which also includes Victorville and Apple Valley. The interesting thing about that area; as a little girl, my folks would drive us out there and take us to Apple Valley Inn and Restaurant. That was in the 1950's. There was very little going on in the high desert and only about 10,000 people lived there. But movie stars, Roy Rogers and Dale Evans moved there in 1965 and purchased the Inn and helped build up the area.
When we moved to Apple Valley in 1998, we went to church and saw Dale Evans in attendance. At that time, the population had grown substantially. Today the three cities now total over 1/2 million people. Roy passed away the same year we moved to Apple Valley. Dale passed away three years later. They were a highly respected couple, and the type of actors that kids could look up to and have as role models.
While our guests were packing up to leave, we chatted and related some of the great things Roy Rogers and Dale Evans were known for. They looked at each other and said, "I was wondering why streets were named for Roy Rogers and Dale Evans. Now, we'll have to look at some of their movies."
As they were driving away, I had this niggling feeling in the back of my brain that something was important about January 8th. Then, I remembered it was Elvis Presley's birthday. Definitely not someone soon to be forgotten because he was known worldwide by millions for his singing, his performances, his albums, his movies, serving in the military, marrying, having baby girl Lisa Marie Presley, and then divorcing. Definitely not a megastar soon forgotten. My sister-in-law, Page, loves Elvis and to this day listens to his gospel songs.
Elvis Presley would have turned 86 years old. Known as the King of Rock' n Roll, he was as handsome as he was entertaining. His performance was sexually provocative for the '50's, '60's and '70's. He had this thing he did with his lip, a lip curl and for saying, "Thank you, thank you very much."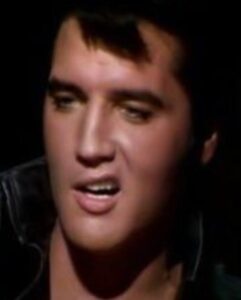 Big seller's, Hound Dog, Heartbreak Hotel, It's Now or Never, Love Me Tender, and more and more for decades, Elvis was King. Ask people today and they still revere the man.
1956 – The first time he appeared in Las Vegas, the critics hated him. The same year he appeared on the Ed Sullivan show and they loved him. After that inauspicious start in Vegas, he became BIG HEADLINE NEWS. Filmed his first movie with Ann Margaret, Viva Las Vegas, another HIT.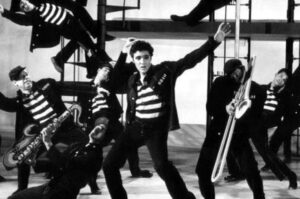 The next year the movie Jailhouse Rock was released. It was the first Elvis Presley movie I saw and I loved it. The music was great. Elvis made a total of 31 films.
My father was a house painter for much of his life. When he retired he let on that he always wanted to be a dentist. Feeling that he was too old for that, he became an acupuncturist and one of his clients in Los Angeles was Larry Geller, Elvis Presley's personal hairstylist. Dad would never share what conversations took place with his clients, but Mr. Geller has written books and given interviews over the years. Born a blonde, Elvis always wanted jet black hair and started dying his hair in his teens. When hairstylist Geller came on board with Elvis in 1964, he would dye his hair every two to three weeks with a L'Oreal formula.
When someone goes from rags to riches, it takes a manager to chart a course. His manager, 'Colonel' Tom Parker had Elvis on a grueling schedule averaging one show every other day from 1969 until June 1977, and a three-album-a-year schedule for record label RCA, and added to that, making movies. No wonder then that Elvis' relationship with prescription drugs started in the 1960's. Part of the problem with the climb to fame and fortune is being in the limelight constantly. Having the energy to perform the same songs over and over, dealing with the adrenaline high after performing, needing something to help slow him down enough to get some sleep after performing were all related to taking meds.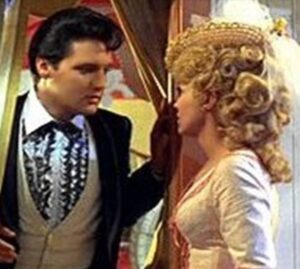 When Elvis made Frankie and Johnny, Donna Douglas (one of the stars on the Beverly Hillbillies) co-starred. That was 1966. Donna was always at our house in LA. My mother helped Donna mail out autographed pictures to her huge fan base. Donna was pretty straight laced and Elvis on drugs didn't go over well with her.
Only after his death at the age of 42 did we find out how many prescription meds he was on: Dilaudid, Percodan, Placidyl, Dexedrine, Biphetamine (Adderall), Tuinal, Desbutal, Eskatrol, Amobarbital, quaaludes, Carbrital, Seconal, Methadone, and Ritalin.
Elvis and family members are buried on the grounds of his home Graceland in Memphis, Tennessee. The mansion sits on 13+ acres. His daughter, Lisa Marie Presley owns it as a result of her father's death in 1977. While youngsters of today don't relate to Elvis, he ranks #3 for best-selling music artists of all time by album sales after The Beatles and then Garth Brooks.