By Donna Westfall – June 20, 2023
Remember this? The US got involved in Vietnam to halt the spread of communism?
You probably remember the French being involved in Vietnam and then leaving. But did you realize that their involvement dated back to the 1880's and continued up until the 1940's?
FIRST POINT – WHAT WERE THE PENTAGON PAPERS?
(1961-1968) Defense Secretary Robert S. McNamara under President John F. Kennedy and Lyndon B. Johnson, in 1967 had commissioned a report to trace the history of the US involvement in Vietnam. This was a 7,000 page report.
It's been said he was a very smart man that made some pretty dumb mistakes. He advised Johnson to escalate the war.
SECOND POINT – WHY DID DANIEL ELLSBERG GET INVOLVED?
He was a military analyst working on a Pentagon project in 1971. He believed the war was unwinnable and immoral. Because he released the report to the public, he helped to bring the war to an end. April 30, 1975
Let's keep in mind one fact. The war that ended the lives of the most Americans, 520,000, was our own Civil War. If it happened once, think it can happen again? Our nation certainly has enough issues that divide us. However, not as easily discernable as North vs South over slavery.
THIRD POINT – GOVERNMENT DECEIT AND LIES
President Johnson said he would never send American boys to fight in Vietnam. Tell that to the families and friends of 58,220 soldiers that were killed.
(Does that sound similar to our own former Chief Administrative Officer, Jay Sarina, stating that Measure R funds – the 1% County sales tax – would not be used for payroll and benefits. Yet month in and month out we see new employees of the ever expanding County government along with raises to some existing employees.)
Ellsberg, being a government employee, copied the 7,000 pages. After leaking the report to the New York Times and Washington Post, and after they were published, Ellsberg surrendered to authorities.
FOURTH POINT – ELLSBERG TRIED BUT NOT CONVICTED
Under the Espionage Act of 1917, Ellsberg was charged with theft and conspiracy.
Before the case went to the Jury, the Judge dismissed it based on gross government misconduct and obtaining illegal evidence. That's due to the "Plumbers" going into Ellsberg's psychiatrists office and looking for info to discredit Ellsberg. Nixon was on a quest and sent in G. Gordon Liddy, David Young and Howard Hunt. Nixon does get the credit for ending the Vietnam war.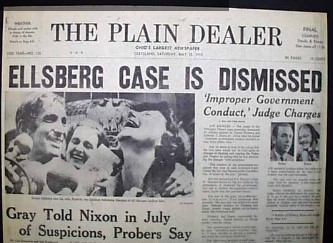 Daniel Ellsberg; 1931 – 2023. Died as a result of pancreatic cancer. Some consider him a hero. Other's a traitor that damaged national security. He's listed among the top 10 famous (or infamous) whistleblowers.