By Roger Gitlin – EYE ON DEL NORTE – August 23, 2021
Two weeks back, it may have slipped your observation but the Del Norte Unified School Board voted unanimously to instruct Superintendant Jeff Harris to move forward on the purchase of 1200 Marshall St in Crescent City, the former office of Drs. Greg and Annemarie Duncan.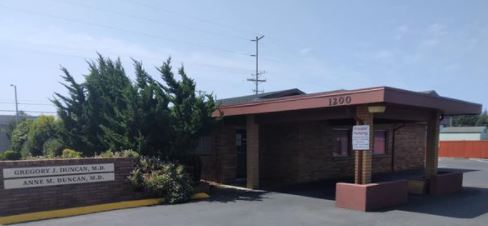 The announced asking price is $399,000.
What you may not be aware of is the proposed acquisition will continue a very disturbing trend in which government agencies are gobbling up private properties and removing valuable property tax revenue from Del Norte County and (in this particular case) the City's share of property tax.
As it stands today. Fully 80% (and growing) of Del Norte County property is exempt from assessment.
This latest proposed strategy follows the County Dept of Health and Human Services purchase of the Coastal Inn and Suites, between the 101s, for a homeless shelter.
When I learned of this aggressive/impending real estate expansion, I met with Superintendent Harris and requested he review the purchase option. And reminding him this choice to acquire this property would permanently remove a turnkey medical office for a new doctor moving into Crescent City. He promised he would bring this vital information to the School Board.
To no avail, the Board unanimously voted to instruct the Superintendent to move forward on the purchase. The School Board consists of the following members:
* Angela Greenough, President
*Don McArthur, member
*Charlaine Mazzei, member
*Frank Magarino, member
*Jamie Forkner, member
In meeting with the Superintendent, I brought to his attention the surplus of available vacant buildings was substantial. Again to no avail.
The intended use of 1200 Marshall will be to serve Homeless Youth Services, already served duplicatlively by the County Health and Human Services.
When I asked Superintendent Harris where would the funding come for the purchase and building improvements needed. Superintendent Harris stated the County Office of Education has currently in its treasury about $1 million to use to acquire via purchase or lease. On one hand the County Office of Education would purchase 1200 Marshall.
I reminded him these monies are public funds and on the other hand the DNUSD plans to float a property tax assessment of $47 million next year. The optics of buying this building rather than leasing, then floating another multi-million tax bond on the other hand was inconsistent and would raise the level of voter scrutiny and distrust to an even higher level if that is possible in view of the recent spate of questionable elections:
Crescent Fire Protection District,
City sales tax increase of 12.3%,
County increase of 12.3% sales tax and
20% increase in Transient Occupancy Tax in the County to be dedicated to the less than satisfactorily run Harbor District.
If the County Office of Education continues with this purchase it will be the 37th DNUSD/DCOE property in Del Norte County which is exempt from property tax assessment, a very disturbing trend which will place additional pressure on City and County budgets.
It is my hope the School Board reviews and reverses this unnecessary purchase and move to a lease option.