By Jeff McCaddon
Copyright Jeff McCaddon, March 3rd, 2021. All Rights Reserved.
The conservative rural counties of Oregon are fed-up with their ultra-liberal cultural-revolutionary big-city Democrat dominated State government. Like neighboring California, Oregon is plagued with financially destructive Pandemic lock-downs, irrational draconian gun legislation, anti-law enforcement policies, Marxist school indoctrination, and intrusions into both their citizen's homes and families. They
are also sick-and-tired of Maoist cultural revolutionaries from Antifa and the Black Lives Matter Movement making government sanctioned incursions into their rural towns.
Five Oregon Counties; Baker, Lake, Grant, Malheur and Sherman have joined together and will vote in May to secede from Oregon to join Greater Idaho. In all, seven additional Oregon Counties are collecting
signatures to join this secession including Jackson, Klamath, Harney, Morrow and Umatilla Counties. Curry County, bordering us to the North, and adjacent Josephine County to our Northeast are also among
those seeking to join Greater Idaho. Del Norte County may soon be bordering Idaho instead of Oregon. A trip to Brookings or Grant's Pass would cross entirely different borders with different laws.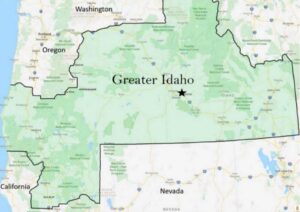 Siskiyou County, bordering Del Norte to the West, is the first California County to circulate petitions to join Greater Idaho. Siskiyou County is the seat of the Jefferson State Secession Movement; the oldest surviving secessionist movement in the United States.
The Jefferson State Secessionist Movement formed during the California Gold Rush, just after California became a State, and just prior to the Oregon Territory attaining Statehood. Jefferson was the product of distinct differences between the needs and desires of this rural region and the predatory big-city governments that taxed them.
There are many other counties in California that are part of the Jefferson State Secession Movement. Secessionist California Counties in the State of Jefferson include (from north to south) Siskiyou, Modoc, Trinity, Shasta, Lassen, Tehema, Plumas, Sierra, Butte, Glenn, Lake, Mendocino, Colusa, Yuba, Nevada, Placer, El Dorado, Amador, Calaveras, Toulomne, Stanislaus, and Mariposa. It will just be a matter of time before petitions to join Greater Idaho are circulated in these counties also.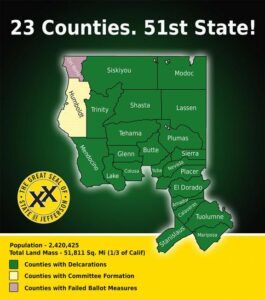 On the Northern fringe of the State of Jefferson, a small coastal island of California loyalists is formed by Del Norte and adjacent Humboldt Counties. Humboldt's population of voters are decidedly ultra-liberal
Democrat and their government reflects that political sentiment. Del Norte however has predominately conservative Republican voters. Despite the number of conservative constituent voters, the government of
Del Norte is composed of liberal Democrats and Republicans in Name Only (RINOs). The needs and desires of Del Norte County are consistently compromised to conform to the tax-hungry and intrusive interests of the State of California.
Should Del Norte County seek to join Greater Idaho also?
If the Recall Petition for the removal of California Governor Gavin Newsom is successful, it will lead to a special election this Summer. This special election will determine who California's next Governor will
be. Will this election make any difference in a State so thoroughly compromised by ultra-liberal policies and criminal graft and corruption?
This special election would be an opportunity for Del Norte County to form a Greater Idaho Movement Committee, circulate petitions, and add a motion to the ballot to secede from California entirely. This committee and movement will not start within our local RINO Party. Our local Republican leadership and elected officials are thoroughly in lock-step with the Democrat and RINO establishments in Sacramento.
A committee to secede from California would need to be grass-roots effort.
Idaho in fiscally sound and ranks within the top ten States with lowest taxes. California ranks #1 in the nation as having the highest taxes! The State of California is also teetering on the brink of bankruptcy.
Idaho is pro-law enforcement and prosecutes cultural revolutionary rioters, looters, vandals, and arsonists for violent crimes. Both California and Oregon have judicial systems compromised by Marxist "Social
Justice" legislation and legal precedents in their courts that protect violent criminals.
Idaho respects the rights of individuals guaranteed by Constitution of the United States. Laws of Idaho are some of the least intrusive in the United States. Both real and personal property rights are respected. This
is reflected by Idaho's lack of 2nd Amendment restrictions. On the other hand, California has become an Orwellian tyranny that intrudes on every aspect of its citizen's lives. This is reflected by the most draconian firearms laws in the United States; restricting the free exchange of all firearms, ammunition, black powder and pellet guns, and even banning crossbows and blowguns.
California and Oregon have endured nearly a year of financially devastating Pandemic Lock-downs. Except for a few initial months, Idaho's businesses and schools have remained open. Idaho's schools also
lack the cultural revolutionary infection of Marxist Critical Race Theory indoctrination. Unlike California, Idaho's schools do not recruit school children for trans-gender reassignment; nor do they work as or as enforcers of "Wokism."
Idaho is not a Sanctuary State. The election laws of Idaho require that only adult US Citizens residing in their State have a right to vote. These Citizens must be "alive," and provide both identity and proof of
residence, and are only allowed one vote each. California is a Sanctuary State and issues illegal aliens a California Driver's License (CDL). A CDL is all that is necessary to vote in any California County. Votes in California Counties are not cross-referenced, and thus a person can vote in multiple counties in each election. Mail-in voting exacerbates this problem by allowing even dead people and pets to vote in California.
Idaho also shines as a State that respects families and religion. Their laws and philosophy afford free- expression of speech, and the protection of religious observation. California and the Cancel Culture Left cannot abide either family, free speech, or any religion other than Marxism.
Should we, the residents of Del Norte County, join the Greater Idaho Movement? Will we ever have another chance to do so? California's election laws are becoming so inclusive that soon the votes of
citizens will no longer count.
Let your voice be heard. Make a comment, if only a simple 'Yes" or "No." Should we in Del Norte County consider joining Greater Idaho?