Commentary and Opinion By Donna Westfall – April 4, 2023
I've forgotten how many complaints of allegations of fraud and corruption were made to the Del Norte County Grand Jury during the years that the Wastewater Treatment Plant was being upgraded and expanded during 2008-2011. This is what I learned from that experience. It appeared that Judge Follett cherry picked the Foreman. I was treated like I had committed a crime while presenting evidence to the Grand Jurors. The sum total of hundreds of pages of documents and several people testifying before the Del Norte County Grand Jury were pretty much swept under the rug.
So, hearing about President Trump's nightmare is no surprise. When like-minded people get together to commit a conspiracy (in this case the NY Grand Jury), then added to that we see Acting New York County Supreme Court Justice Juan Manuel Merchan in charge of the arraignment;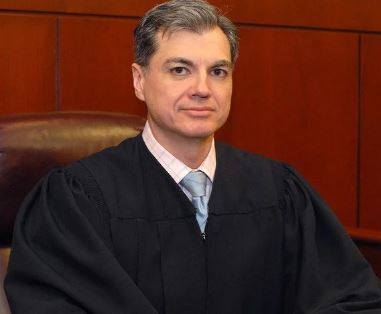 who according to Federal Election Commission's (FEC) filings show he contributed to ActBlue, Biden's presidential campaign and his daughter, Loren that worked in Kamala Harris' Presidential bid in 2020, it's certainly not a huge leap of the imagination to conclude this whole mess is tantamount to a Kangaroo Court.
I hope that Trump's lawyer, Criminal Attorney Todd Blanche, requests another Judge and another venue. Get out of New York City, clearly a Democrat strong hole. Blanche resigned as partner in the law firm of Cadwalader, Wickersham & Taft in order to represent Trump.
At 1:24 pm Eastern Time, Former President Donald Trump walked in, went to the second floor along with his Secret Service men and was placed under arrest. No handcuffs were used. He was not placed in a jail cell. No mug shot was taken. Surprisingly he was fingerprinted which seems ludicrous since at one point his fingers could have pressed buttons to release nuclear weapons.
If you read through the now disclosed 16 page Grand Jury indictment, there doesn't appear to be anything, let's repeat that, not anything that comes close to criminal charges, plus the statute of limitations ran out. This charade is all politically motivated. Why else would they conjure up changing of the laws? What some would call misdemeanors, they are now calling felonies.
Rep Marjorie Taylor Greene (R-GA) made the trip, spoke and was cheered on by the Trump supporters, and was heckled by anti-Trump protesters. I agree with her when she referred to the Communist Democrats. New York City has become a Communist Democratic stronghold.
Once, a long time ago, I loved New York. Now it's on my sh*t list of cities I don't care to visit any longer along with San Francisco, California. Our current Gov. "Hair Gel" Newsom – where he played at being the former Mayor of San Fran, but after ruining that city decided he could enrich himself while ruining our state by becoming Governor.
I hope and pray that Trump is vindicated once again; runs for office and wins. Maybe then he can turn around the disasters Biden has created. It's just horrible watching our country go down the tubes.