By Roger Gitlin – EYE ON DEL NORTE – October 1, 2021
The City of Crescent City continues to double down and test its employees for the Covid 19 virus.
I do not diminish the seriousness of this Virus or minimize these past sixteen months, the deaths of 38 Del Norte individuals, Public Health Branch claims to have succumbed from the Virus. The lethality ratio of those who have contracted the Virus is about 1%. About 98.5% of those who have contracted the Virus have fully recovered. Anecdotal opinion from Public Health Officer Aaron Stutz, MD alluding to permanent aftercare for many of the Covid survivors, so-called Covid-spiked suicide rates in Del Norte County are simply untrue and hysteria-driven.
Unhelpful!
Likewise, I could share many of the identified 10% of those who have been been vaccinated and have nightmare stories of their personal experience after taking the shot(s). Also, Unhelpful !
Why is the City continuing to test and pull workers from their jobs, reduces production and violates employees' Constitutional rights?
I would like to acknowledge medical professional Mario Westphal for providing EYE ON DEL NORTE with valid and extremely compelling evidence of Del Norte County's mortality statistics since 2017 through August 2021.
The information comes from the Del Norte County Clerk and the California Dept. Of Public Health, Vital Statistics Branch.
Here is the news:
Monthly mortality rates have NOT spiked during the so-called Pandemic.
In pre-Covid 2017, there were 311 death certificates a(bout 26 per month) issued.
Through the first eight months of 2021, during height of the so-called "Pandemic," there have been 222 death certificates issued (about 28 per month) issued by the County Clerk.
Folks, these figures do not lie. Those driving this hysteria are not telling you the entire truth. Despite all the hysteria generated by an army of VACCINATION-driven zealots doing everything it can do to persuade you to take the vaccine, including paying you, threatening you and shaming you if you do not vaccinate, 45% of Del Norte County remains healthy and un-vaccinated.
Please examine this chart and see for yourself the reality of just how many folks are passing away from the Covid.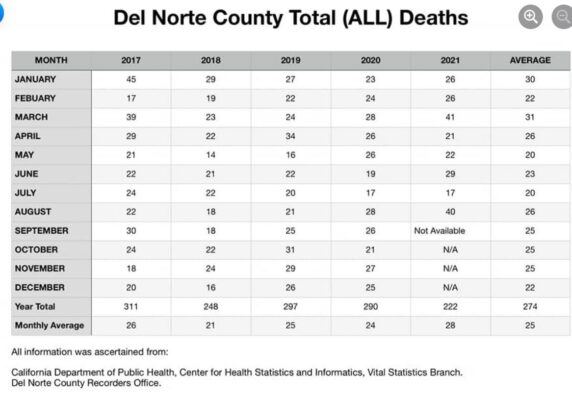 Meanwhile, shameless politicians like President Biden, Gov. Newsom, even our naive, albeit own State Senator Mike McGuire will and still attempt to shame rural Republican voters for spreading the Virus.
Ridiculous!
And to our esteemed City Councilors, Beau Smith, Ray Altman, Isaiah Wright, Blake Inscore, Mayor Jason Greenough and City Manager Eric Wier, stop this ridiculous wasteful Covid 19 testing of employees and put these folks back to work fixing pot holes and maintaining our City infrastructure. Do it NOW!
This is a tempest in a tea cup.