March 13, 2023
The Del Norte County Sheriff's Office would like to extend a sincere thank you to the many agencies who came together to assist with the snow rescues over the past week.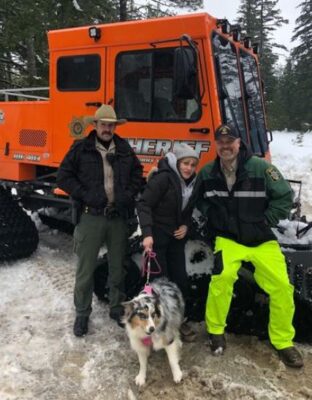 Del Norte County was inundated with snow, with higher elevations receiving 7 plus feet of snow.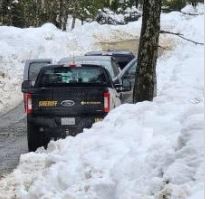 Many agencies came together to assist in rescuing multiple people who were stranded, trapped and without food.
A huge thank you to the Curry County Sheriff's Office for bringing their Snow Cat into Del Norte County to assist in the rescue.
Sheriff Scott would like to extend a special thank you to the following agencies/people who assisted last week:
Curry County Sheriff's Office
Del Norte Search and Rescue
Del Norte Office of Emergency Services
Del Norte County Roads Department
Hemmingson Construction
USFS Gasquet Ranger district
Gary Hartwick, Jacob Moon and Dale Gavin
From the desk of
SHERIFF JOHN WARD
CURRY COUNTY, OREGON
94235 MOORE STREET, SUITE 311
29808 Colvin Street (Physical)
(541) 247-3221 – FAX: 541-247-6893
Wardj@co.curry.or.us
On 03/08/23 the Del Norte County Sheriff`s Office contacted the Curry County Sheriff's Office to request assistance. Del Norte was requesting the use of the SnoCat to locate and assist a 70-year-old female that had been stranded inside of her remote home due to heavy snow since 02/21/23.
The stranded female advised that she had run out of food, and her wood stove was not functioning properly, and was only heating her residence to approximately 40 degrees. She advised that she did have a Jeep, but that the snow was entirely too deep for her to even move the Jeep.
At about 1:00 p.m. Curry County Sheriff`s Deputies, Sergeant Jared Gray and Marine Deputy Jordan Rhodes, arrived in the area of Rowdy Creek with the SnoCat, and began the 6-to-8-mile trek to locate the female. After traveling several hours in approximately 4-6 feet of powder type snow, Curry County Deputies, and two Del Norte County Search and Rescue members were able to reach Jeannie Morrison and her dog Willow, at her remote wilderness cabin.
It was extremely tight quarters on the narrow wilderness road, with a steep cliff on one side and sheer rock on the other. Due to the location, there was no way to turn the SnoCat around so it had to be backed out of the location for approximately 1 mile.
At approximately 4:30 p.m. Jeannie Morrison and her dog Willow were brought out safely to Del Norte County Deputies and given a ride into town to get a motel room. Morrison advised that she was out of food for herself and for her dog and advised that she was not prepared for this type of weather and deep snow.
At this time Del Norte County Sheriff advised Curry County Deputies that there were several other residents off in another direction of Rowdy Creek that needed to be rescued.
At or about 4:45 p.m. the SnoCat again was used to access and locate 31-year-old Chris Zelkovich, and 62-year-old Anthony Williams, and their four dogs. Zelkovich and Williams were also running low on supplies, and needed to be extracted before the next weather event struck the area. The four dogs and two subjects were loaded up into the SnoCat and taken out to safety.
While extracting Zelkovich and Williams the SnoCat was also able to assist two other residents, Patti and Tom Beesler in the same area, by dropping off needed medications. The Beeslers advised that they had plenty of supplies for the remote home but did not have a way to access their medications.
As of this date the Curry County Sheriff Office has the only in service SnoCat on the southern Oregon and northern California coast. The SnoCat is a very valuable resource, and its use will save lives. Curry County Sheriff`s Office was glad to lend a hand and help out our neighbors in Del Norte County.