Commentary by Samuel Strait – August 31, 2022
Two of the most void of "Common Sense" on the City Counsel, Mayor Thomas
Greenough and Blake Inscore were vibrating with suppressed excitement
over the recent reception of a $3 million Grant for the purpose of
constructing another useless edifice in Beach Front Park, most notably
an out door amphitheater. Of course neither men were seemingly aware of
the folly of such an endeavor, nor of the consequences to the future of
such stupidity. It is as if both men live in the same world currently
occupied by Brian Stone and Wes White down at the Harbor, that of the
kind of fantasy world that treads the tip of the thinnest branch of a
tree, just waiting to snap off and plunge to an unforgiving earth.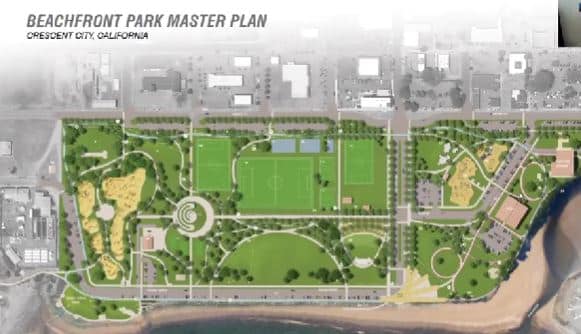 Nowhere does an amphitheater in Beach Front Park make the least amount
of sense, but another randomly and very occasionally used bit of lip
stick on an otherwise heavily decorated pig. No thought to the future,
the cost to maintain it even if funding could be plucked off that magic
money tree. What in the world are these two individuals thinking? Or
the entire City Council for that matter? Does not Del Norte County
weather give anyone a pause when contemplating such an extravagant
gesture? Who, I might ask will use such a "white elephant"? Beach
Front Park has become a $10 million "money pit, and Crescent City voters
should take note. Not only for the initial outlay of funds, but the
kind of money to be expected from your pockets going forward.
How many "new" hires will be required to "look after" all the new show
pieces. Nothing about this has any real means of "paying" for itself,
not even the community pool. As the City's population continues to
decline, fewer citizens will be there to foot the increased cost of
taking care of the current Council's "grand design". If the City's
behavior thus far is squandering the recent Measure "S" with no end in
sight, how will it be even possible to encompass future "vital" projects
that have been neglected by the Council for years, let alone any "New"
project currently being funded?
This is a stark warning to those in the City that wish to remain. None
of the projected projects thus far proposed or initiated are remotely related to "vital" City services.
A YES vote on Measure "T" to repeal Measure S in November
will go a long ways towards preventing future disaster in Crescent City.