By Assemblyman Kevin Kiley – February 10, 2022
California Democrats just voted to continue the State of Emergency even as we host the Super Bowl. Here is the vote tally.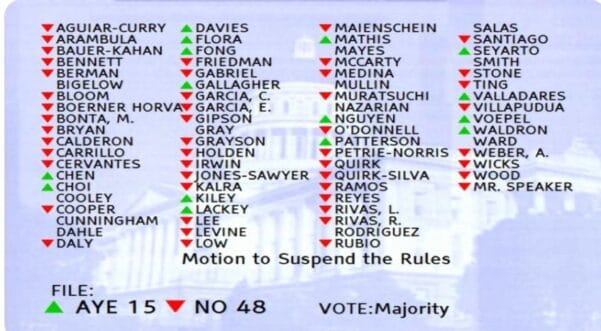 To even get a vote, I had to make use of a special parliamentary procedure. At least now they're on the record – and they will never live this down. The entire press corps came out for our press conference….(watch 1.44 video)
Beforehand, I was given a useful prop: a mask with a picture of Newsom and Magic Johnson maskless. I put it on as I spoke.
Newsom attacked me personally in response, saying "Asm. Kiley and Asm. Gallagher believe it would have been better to let Californians die." He and his cronies will now come after us like never before.
I need your help today to fight back
NOTE BY EDITOR, DONNA WESTFALL: OUR ASSEMBLYMAN 2ND DISTRICT, JIM WOOD VOTED TO CONTINUE THIS RIDICULOUS STATE OF EMERGENCY. PLEASE CONSIDER SPENDING A FEW MINUTES TO CALL OR WRITE HIM ON HIS FACEBOOK PAGE AND LET HIM KNOW WHAT YOU THINK OF HIS VOTE! HIS TELEPHONE # IS (916) 319-2002 IN SACRAMENTO. 707-445-7014 IN EUREKA.