By Jaime Yarbrough – Science Editor – December 5, 2021
AN ELECTROMAGNETIC PULSE, short of dying is possibly your worst nightmare.
OK – – do I have your attention?
Fine.
Before we jump into the technical stuff let's look at your life. And then we will look at all the lives around you in "2021." "You" could be (if you're reading this I presume old enough to read), someone lying in a hospital bed waiting for your kidney dialysis. Or someone in-between. Regardless of who or what kind of human you are or where you live, in some way, you and everyone around you, unless they live in a cave are touched by "ELECTRICITY." Even if you live 'off the grid' with solar power, the use of electricity is synonymous with living with fire or use of the wheel. Your very heartbeat depends on an electrical charge.
Now, what happens if that electricity isn't there? Yes, your heart stops beating but supposing it doesn't and all the things you, in your modern life don't work because they use electricity and IT'S GONE!
There is a cascade of things that can happen if a person, a city, a state, a nation "ARE DEPRIVED" of their use of electricity. Most people have experienced a 'blackout' when the power goes out because of a storm, someone hits a power pole, a transformer blows up. Massive power outages also often happen because of hurricanes, earthquakes, floods, snow/ice storms and other natural factors. One such event is a solar flare, when the sun releases a burst of charged particles which overwhelm Earth's protective magnetic field.
An electromagnetic pulse is not natural. It is man made and is used as a weapon. A nuclear explosion (atomic bomb) can cause an electromagnetic pulse. Depending on the type of weapon and where it goes off is what makes them a very dangerous weapon. An excellent paper on what an EMP is, how it is created, what it does, how to mitigate the effects of one can be found here: https://www.doh.wa.gov/portals/1/documents/pubs/320-090_elecpuls_fs.pdf
Back to the topic and why you should care. Most people are aware tensions are high around the world. Russia to the East, China to the Far East and let us not forget North Korea. There are the 'hawks' and the 'doves' – the military who are, for whatever reason, intent on seeking, exercising and flexing their power to secure land, resources, and political gains. Then there are those who want to do away with borders, use diplomacy and bring peace to the world through cultural exchange and singing kumbaya while making smores around the campfire.
HERE is one of the reasons an EMP is in the news:
Here are some pictures with links for your edification. "I have only shown you the door. You, must walk through it" – Morpheus )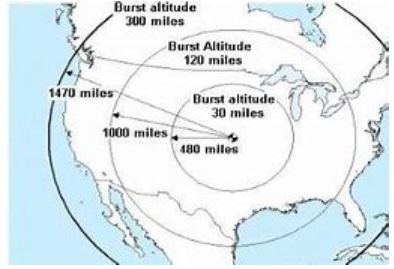 What will and will not work after an EMP :