Opinion Piece By Linda Sutter – August 22, 2021
A look into the up and coming Recall election.
According to a recent article by MSN, The most important issue democrats are looking at Is whether or not Dianne Feinstein should step down before Newsom is recalled.
California's 88-year-old senior senator, Dianne Feinstein, is widely understood to be in poor health and suffering from cognitive decline as she — with increasing difficulty — navigates the U.S. Senate, now evenly split between the two parties.
Under state law, if she dies or otherwise leaves her seat vacant, the governor gets to appoint the replacement. If a Republican becomes governor when the recall election results are certified in October and thus, for at least the next 14 months, would have the power to select Feinstein's replacement, thereby once again making Mitch McConnell the Senate majority leader.
In the meantime, a gentlemen by the name of Kevin Paffrath a Democrat described by a Southern California News Group, states he seeks "to make all coronavirus safety measures optional, to ditch income tax for anyone making less than $250,000, to use the National Guard to get all unhoused Californians off the streets and to give trained gun owners more rights." As a clue to the inclusivity of the "centrist solutions" that Paffrath says he yearns for, he introduced himself to voters with a video that "features clips from Fox News and from conservative media host Ben Shapiro."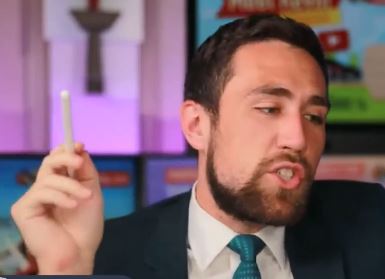 Recent polling shows the 29-year-old Paffrath neck-and-neck with the front-running Republican on the ballot, bombastic Trumpist talk-show host, Larry Elder.