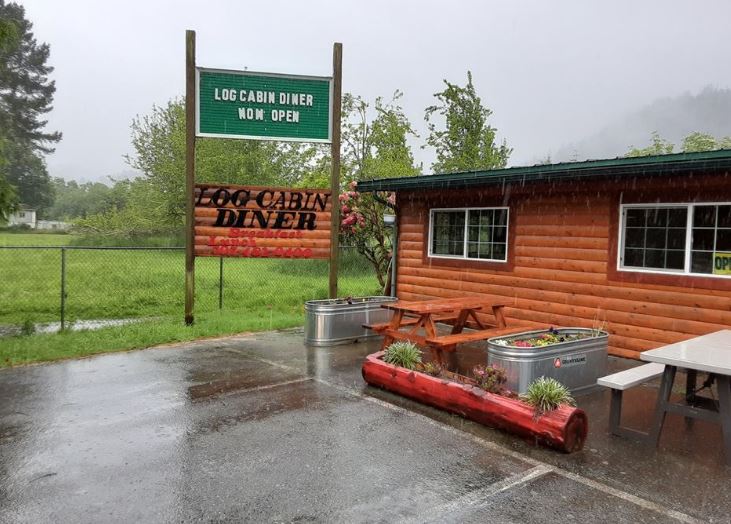 Local Del Norte County restaurant is open in defiance of our Governor's orders.
By Donna Westfall – May 2, 2020
Supervisor 1st District, Roger Gitlin along with his wife, Angie, and their friends Tony and Leslie Barnes along with Dan Schultz and friend ate breakfast this morning at the Log Cabin Diner located at 301 Hwy 169 in Klamath, California.  They are now open for breakfast and lunch from 7:30 am to 2 pm. They will stay open longer if there's the need.
I spoke to owner, Sherry Scott and asked her why they chose to defy Gov. Newsom's order.'
"His order is against the constitution. We don't have the freedom to chose or function yet we still have to pay our taxes, follow health codes and do everything by the book.  It's time to take a stand.  Fear controls people. 
We were in WalMart buying half and half and there were several people all around us.  WalMart and other stores are not requiring face masks or gloves.  They don't have social distancing police making sure you're six feet apart. 
We don"t require masks or gloves.  If you want an order to go, that's fine.  If you want to come in and sit down, that's fine.  We're open seven days a week, but will be closed this Thursday, May 7th because we will be attending the rally by the Fairgrounds in Crescent City."
Supervisor Gitlin said, "Angie and I learned the Log Cabin Diner in Klamath, owned by Sherry Scott and Ed would be opening, Saturday May 2 in defiance of Gov. Newsom's Executive Order for sit down dining.  We were joined by several other couples. I encourage you to support this stalwart business and drive down to Klamath for a great breakfast or lunch. The phone # ( 707) 482-0400. Gov. Newsom is out of control and his Executive Orders are killing Del Norte County,
I hope you will support Sherry and Ed at the Log Cabin Diner. Great food and wonderful ambiance.
Also, I hope you will plan on making a huge stand in demanding our Governor loosen up its chains abridging our Bill Rights. Ret. Sheriff Dean Wilson is organizing a Rally Thursday, May 7, at 12 Noon, on Hwy 101, at the Fairgrounds. Please join me. Bring your Flag, sign, and lots of supporters. Face masks optional. It's time to speak up!"