By Kevin Kiley – October 28, 2023
Newsom's trip to China has delivered some bizarre scenes. He posed awkwardly at the Great Wall and shook hands eagerly with a beaming President Xi. Watching the clip, you can imagine the communist autocrat saying, "Great job handling COVID, Mr. Newsom. You made me proud."
The trip has been widely ridiculed. Newsom is now running a full-fledged presidential campaign-in-waiting, no longer even pretending to defer to Biden. And to help clear his path, he's sent his radical "Deputy Secretary" to run against me.
By all appearances, our opponent Ms. Morse aspires to join "the Squad," whose members (like AOC and Omar) just voted against the Resolution I sponsored supporting Israel and condemning Hamas. Fortunately, it still passed by a vote of 412-10.
Sadly, it's not just radical politicians who are expressing loathsome views. It's happening across college campuses – with the blessing of faculty. My legislation with Burgess Owens condemning the pro-Hamas and antisemitic activity at universities will be voted on next week.
I've also asked Merrick Garland if he believes parents at school board meetings are more of a threat than Hamas terrorists. He hasn't issued any directive aimed at Hamas supporters, yet still refuses to rescind his school board memo – even after his humiliation at last month's hearing.
Finally, we have a Speaker of the House. Mike Johnson is an honorable and talented man who I've gotten to know well. You can get a sense of his winning personality from this clip when he introduced me on the House Floor in January.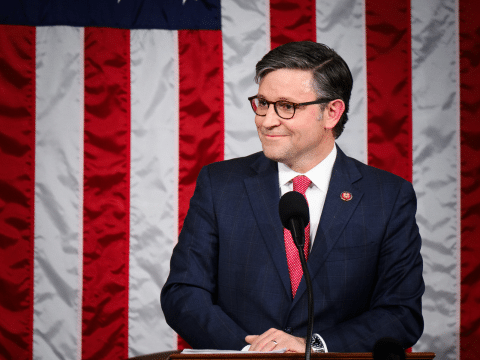 Last year when I was running, Mike called to say he was excited to have a fellow defender of the Constitution in Congress. I then joined his Subcommittee on the Constitution and Limited Government. At this moment, having a constitutionalist in the Speaker's chair is a major asset.
Help me defeat Newsom's candidate
Kevin Kiley is a California Congressman